Skip to Content
Experienced Siding Contractors in Edmonton
Residential Siding Contractors in Edmonton
Siding not only boosts the curb appeal of your home but also provides an energy-saving shield for your home. Caveman Exteriors offers high-quality siding to Edmonton, AB residents. You can trust our family-owned business to provide the best siding for your home. We understand siding covers a large portion of most people's homes, so the style and color are important for aesthetics. We'll help you find the right siding to meet your needs. Two brothers lead our family-owned company with over 20 years of siding experience. We treat each siding project with a customized approach as if it were our own home. Contact us today for a free quote.
Our Process
Our process includes:
Free Estimate –We'll provide you with a free estimate for our siding services.
Project Preparation – We send our siding installation crew to prepare the job site and order siding materials.
Installation – Our siding professional team will complete the work in a timely and efficient manner.
We Offer Vinyl and HardiePlank® Siding 
Caveman Exteriors is proud to offer some of the best siding products in the market, including James Hardie's vinyl and HardiePlank® siding. James Hardie products are offered in multiple colors to complement your home's trim. For optimal protection, James Hardie siding is hail-resistant and non-combustible.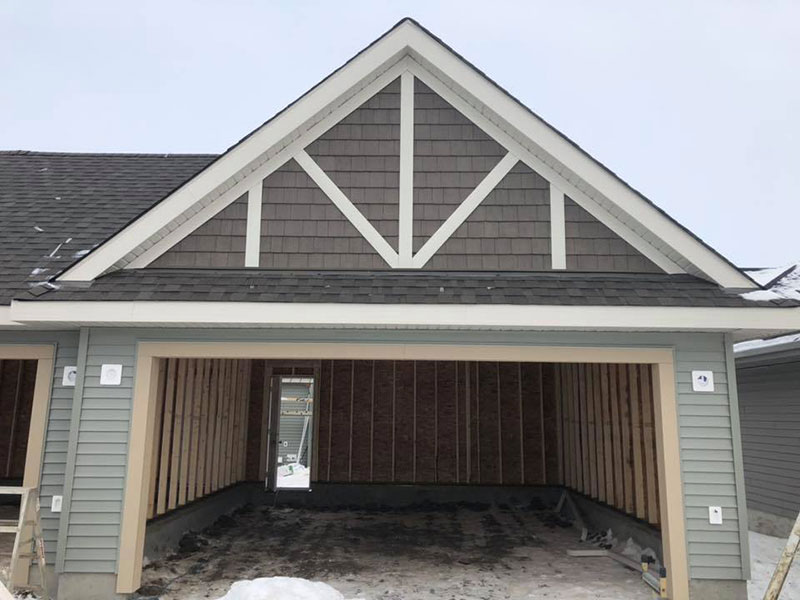 Types of Siding
We offer multiple types of siding, including:
Vinyl Siding –Vinyl is the most popular choice for siding due to its excellent durability, smooth aesthetics, and minimal maintenance.
Steel Siding –Steel siding offers optimal protection for your home with a beautiful finish, woodgrain textures, and unique profiles.
Metal Cladding –Metal panel wall system snaps together on site, helping to reduce installation time.
Insulated Siding –Made with rigid foam insulation, insulated siding helps lower energy consumption.
Best Siding Options in The Fall and Winter
Through we work throughout the year to ensure your home renovations are perfect, the best time to redo your siding is in the fall and winter. Cold weather sometimes causes siding material to shrink. Fall and winter offer the best opportunity for installation, ensuring you won't have any gaps or pieces that don't fit once spring rolls around. Since summer is often the busiest time of year for siding, many people get the perks of better rates on building material in the colder months. No matter the time of year, we're here to provide the highest level of service and craftsmanship on your siding projects
Why Choose Caveman Exteriors?
We're a family-owned local business that believes in creating a unique experience to transform your home's exterior. We offer one-on-one interaction during every step of your home renovation project. We'll ensure each project is done according to your specifications and you are happy with the final product. We are proud to say our workmanship is certified through Renovation Find. We strive to exceed your expectations on every home exterior renovation project. 
Contact Cavemen Exteriors in Edmonton
You can trust Caveman Exteriors for beautiful new siding renovations in Edmonton. From the start of the project to the last piece of siding, we're here for you every step of the way. Our team is experienced with installing LUX paneling and exterior insulation products. We use the highest R-values to boost the indoor comfort of your home and energy efficiency. Contact us today for a siding estimate.