Skip to Content
Exterior Renovations in Edmonton, AB
Superior Workmanship for Exterior Renovations

Exterior renovations are one of the most popular ways to boost curb appeal and confidence in the look and feel of your home. Caveman Exteriors is excited to help homeowners in Edmonton, AB, with exemplary exterior renovations. Whether you want new siding, updated fascia, eavestrough improvements, and more, we are here to help you create the home exterior of your dreams. Caveman Exteriors is proud to be your family-owned exterior home renovations company that you can trust with all your renovation needs. We treat every project as if it is our own home, putting your needs first. Our superior workmanship and attention to detail ensure you're happy with the finished product.
Benefits of Investing in Your Home's Exterior
Investing in your home's exterior does more than offer a new look. Boosting curb appeal shows pride in the home of your dreams and often gives your home an entirely new positive feel. New paint, accents, and siding give your home a unique personality to show off its greatest assets. Besides a new feeling, your investment offers energy savings. Upgraded siding and gutters help protect your home throughout the year. To bring you the best building materials at a fair price, we've partnered with leading companies, including Doug's Exteriors, Premier Built Garages, and Mitten® Building Products.
Helping Protect Your Greatest Asset
Edmonton roofs are often prone to ice dams and attic condensation, leading to leaks and structural issues. Leaks lead to peeling paint, mildew problems, and warping wood. We help protect your home from these issues with the highest quality exterior renovation products. We offer soffit and fascia upgrades to help with ventilation. We specialize in installing 5″ and 6″ rain gutters, 3″ commercial-grade pipes, and leaf guards for further protection.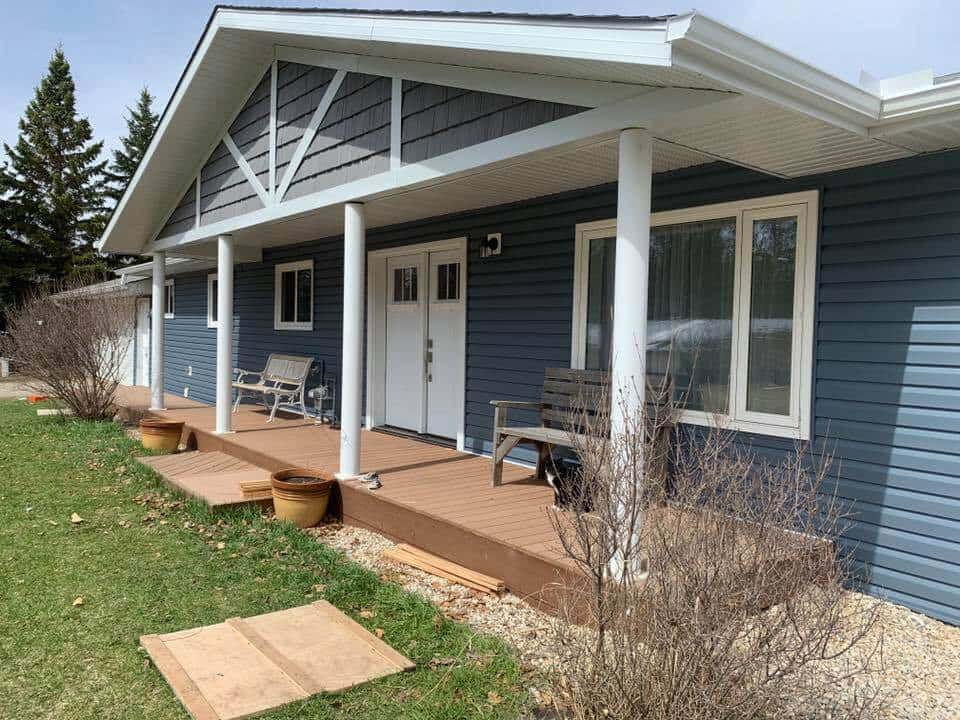 The Perfect Time for Exterior Renovations
We work year-round to ensure your home is at its optimal potential. Some benefits of exterior renovations during the fall and winter include:
Reduced Energy Costs – Updating your home's exterior quickly reduces the amount of heat loss, saving money on energy costs right away.
Ready for Spring – Once the warmer months roll around, you can relax outside and enjoy your new exterior.
Fast Results – We're usually not as busy during the colder months, so we often offer a quicker turnaround on our renovation services.
Popular Exterior Renovations
We offer multiple types of exterior renovations to boost the look and feel of your home. Some of the most popular home exterior renovations include:
New siding
Updated trim
New entryway
Painted front door
Updated brick color
Faux-stone upgrades
Updated fascia and soffit
Gutter improvements
Offering Vinyl and HardiePlank® Siding

Caveman Exteriors offer some of the best sidings on the market for home protection. Our James Hardie vinyl and HardiePlank® siding are offered in multiple colors to complement the trim of your home. It's non-combustible and hail-resistant for optimal protection. We're also experienced in installing exterior insulation with high R-values and LUX paneling.
Rely on Us for Comprehensive Renovations in Edmonton
Contact us for reliable comprehensive exterior renovations in Edmonton. Our locally owned company is run by two brothers with over two decades of siding experience. With our low overhead costs and hands-on-technique, we're able to offer you superb renovation services at affordable costs. We treat each project as if it's our own home, tirelessly working to ensure a beautiful product. We'll help you find the best home exterior projects that fit your dream home. We want you to smile every time you drive up to your home. Contact us today for a home exterior renovation estimate.