Skip to Content
Exterior Renovation Services for Metro Edmonton, AB Homes
When you look up the driveway at your home, are you ever dissatisfied with what you see? Renovating the exterior of your home offers numerous advantages. Not only will it be more aesthetically appealing with new siding, soffits, or eavestroughs, but your property's curb appeal should increase should you ever wish to sell your home. These exterior features protect your home from the elements and may help you improve your energy efficiency for reduced heating and cooling costs. When you require exterior home renovation services in the Metro Edmonton, AB area, Caveman Exteriors would be happy to help. While we offer our exterior renovation services year-round, we recommend contacting us in the spring and winter for the best value and turnaround time. We bring nearly 25 years of experience to every project to ensure your satisfaction!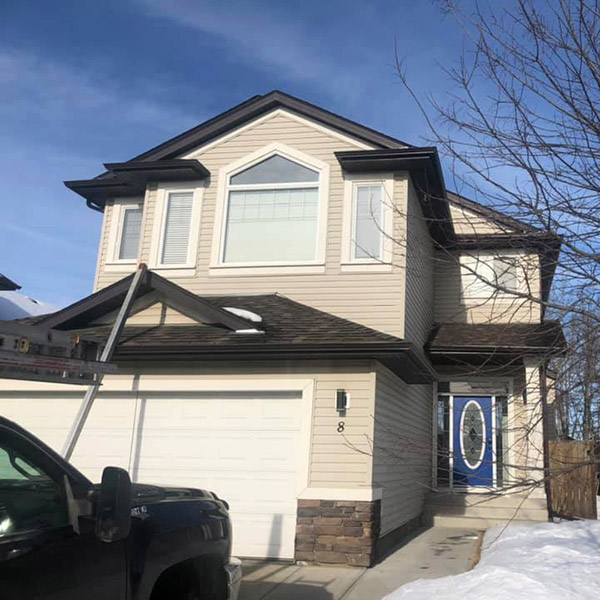 Vinyl and HardiePlank® Siding to Keep Your Interior Cozy
Siding (also referred to as wall cladding) protects your home's exterior from the elements, including rain, snow, and even the sun's ultraviolet rays, which cause significant fading over time. This protection is essential to keeping your home's interior and your family comfortable year-round. We carry vinyl and HardiePlank® siding from James Hardie. Both options come in several colours to complement your home's trim and are hail-resistant and non-combustible for a longer lifespan. When you rely on Caveman Exteriors for a new siding installation, you can expect it to look great for many years to come. Our team is also experienced with installing LUX paneling and exterior insulation with superior R-values to improve your home's indoor comfort and overall energy efficiency.
Soffit, Fascia, and Eavestrough to Complement Your Home
While often overlooked, soffit, fascia, and eavestroughing are important components of your roofing and should be replaced when worn down or outdated. Soffit is found beneath your roof's eaves, while fascia is found along the trim of your roof. Soffit helps with attic and roofing ventilation, while fascia primarily protects your roof's edge from the elements. Your home's eavestroughs protect against moisture and damages caused by rainwater by sending excess water into a downspout until it reaches the ground safely. Caveman Exteriors specializes in the installation of 5" and 6" eavestroughs, 3" commercial-grade pipes, and leaf guards. Talk to us today about matching your soffit, fascia, and eavestroughing to your home's siding for a beautiful, seamless look.
Exterior Window and Door Capping for Energy Efficiency
Caveman Exteriors can install custom woodgrain aluminum capping or pre-painted smartboard to increase your home's energy efficiency. Exterior window and door capping seal out water and moisture to prevent damages and costly replacements. Capping not only serves as a protective layer to your window and door frames and trim, but it also adds visual appeal to any home. Capping is available in many colours and finishes to add a pop of vibrancy and enhanced curb appeal. Aluminum capping is low maintenance and moisture-resistant, with the woodgrain mimicking the classic beauty of wood. Learn more about our window and door capping options when you give us a call.
Get the Dream Home You Deserve Today